Google Shopping is an attractive ecommerce platform for both online buyers and retailers. For buyers it's like a digital mall: they can enter, browse and see many brands and types of products on one screen.
For retailers, Google Shopping is a huge traffic-driving source that increases earning potential for online stores. According to a Digital Marketing Report from Merkle, it has approximately 30% higher conversion rates than text ads.
This article is about how retailers can use Google Shopping to generate sales for their ecommerce stores. It provides comprehensive information, data and guidance on:
The characteristics & benefits of Google Shopping, including practical recommendations.
Starting & optimizing Google Shopping campaigns for domestic and international markets.
Getting the best results and sales conversion rates via Google Shopping.
What is Google Shopping?
If buyers want to look for a product and shop among a variety of brands and labels, hopping between ecommerce websites is not the most convenient option. A more user-friendly way are marketplaces, like eBay or Amazon. Another option is Google Shopping. Google Shopping ads have proved to be 38% more successful than ads from competitors.
Google Shopping isn't technically an online marketplace, but more like an ad platform integrated with Google's search engine. It allows buyers to browse a variety of products based on their search query. This is also known as a Comparison Shopping Engine (CSE).
Google Shopping allows customers to search for, view and compare products across different retailers who have paid to advertise their products. These ads are displayed when a customer uses Google to browse for products. They can appear in the main search engine results page or under the shopping tab.
In 2018 Amazon was one of the biggest players in Google's search and shopping channels. The
company saw impression share climb in several retail verticals.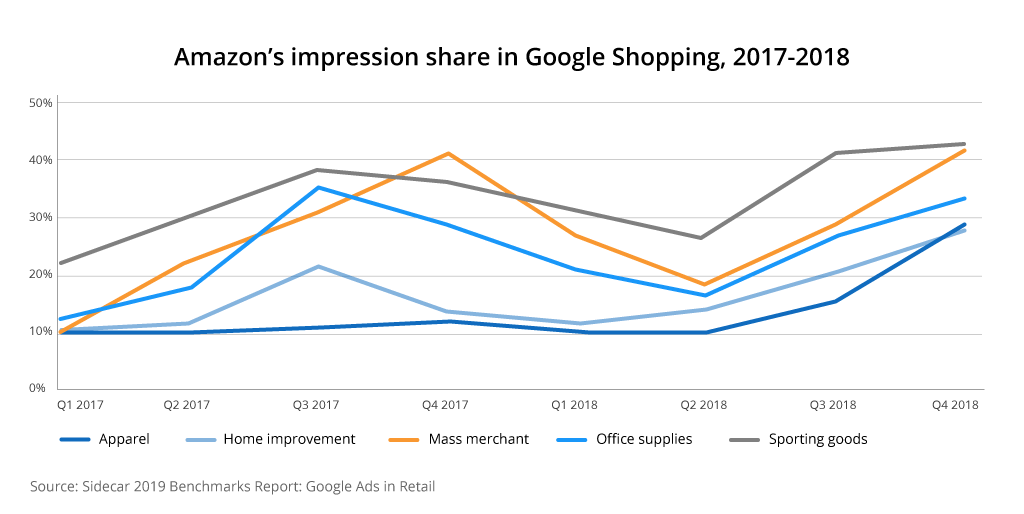 In Q4 2018, mobile accounted for its biggest share of clicks and conversions in Paid Search and Shopping (it made up 68% of clicks in Google Shopping). Further, mobile is currently the majority device attributed to Google Shopping conversions (52%).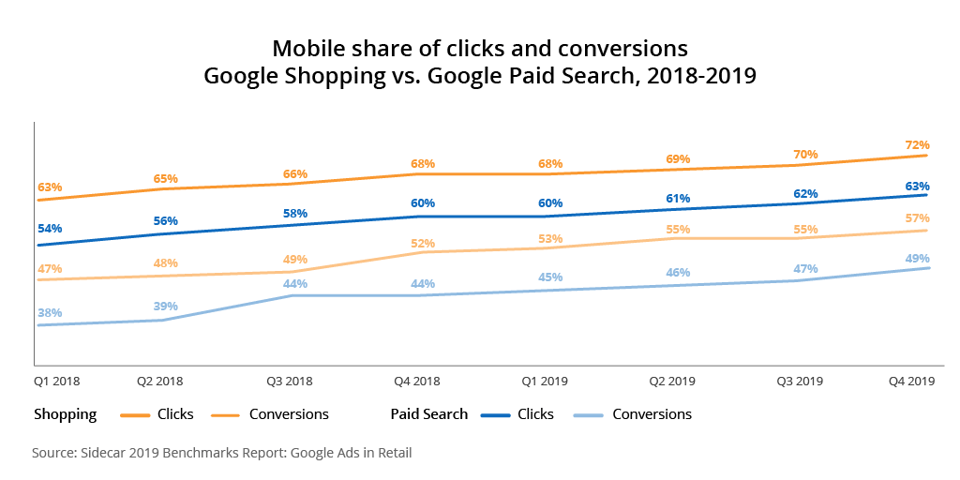 How Google Shopping works
Contrary to text-based Google Ads that show up only based on keywords, Google uses product data uploaded by merchants to display Google Shopping ads. The Shopping ads still show up based on keywords, i.e. when users type them in search engines. However, when it comes to campaign management, they aren't listed based on keywords targeted by a retailer).
The following example shows how Google Shopping works. When a customer enters "red running shoes", for instance, in Google, they may see sponsored ads at the top of the page. Google Shopping results show up as thumbnail images that display each product's retailer and price.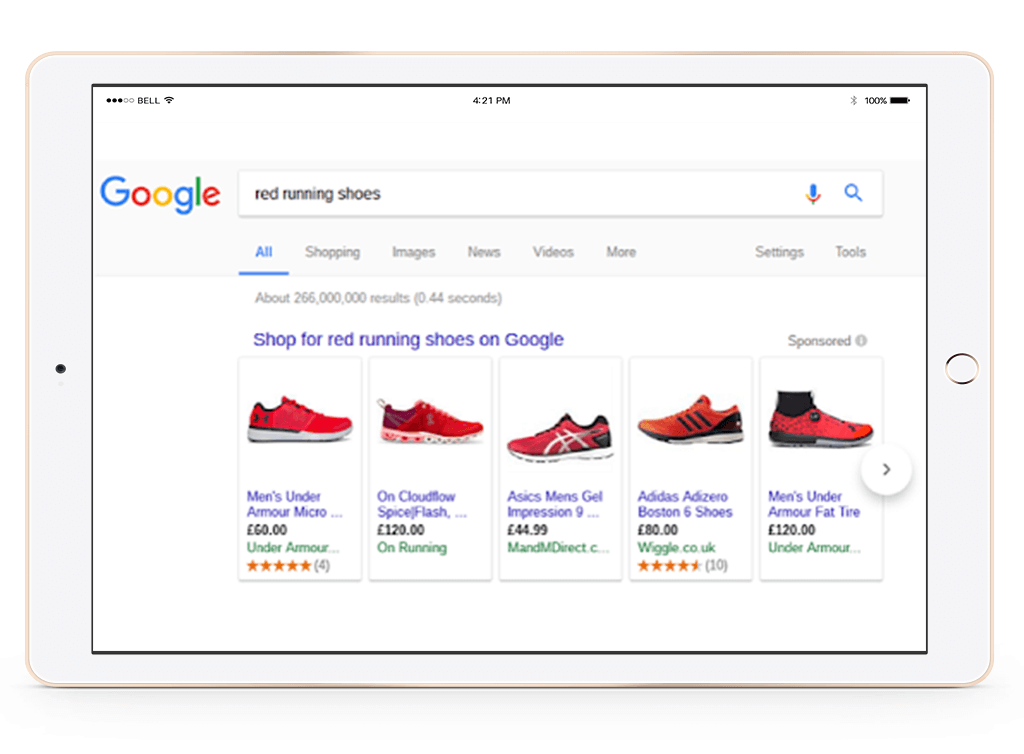 If the customer clicks the Shopping tab, they will see the following page: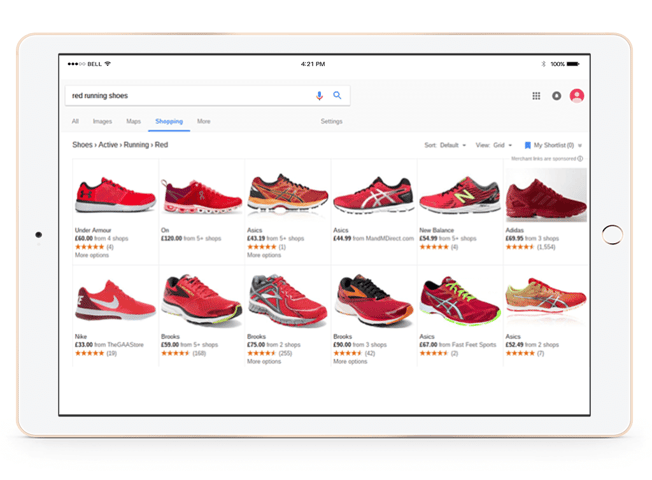 Benefits of Google Shopping
Google Shopping benefits buyers by providing them with a shopper-friendly way of browsing and comparing products. Google Shopping also benefits retailers. When a shopper clicks on a product link, they land on the retailer's site to make the purchase.
Benefits of Google Shopping:
Google Shopping is an attractive platform for buyers. They can access a variety of products from different retailers. Buyers can filter the results by price point, size and so on.
Google Shopping has approximately 30% higher conversion rates than text ads.
Google Shopping adds a visual touch to an otherwise text-heavy searching and shopping experience.
Google Shopping allows sellers to show up in Google SERPs multiple times, e.g. your site can be ranked on the first page organically thanks to your SEO efforts, you can have a Shopping ad on top of the page and in between a text-only result (PPC efforts).
Product listing ads that tend to appear at the top of the search engine listings are likely to be spotted first.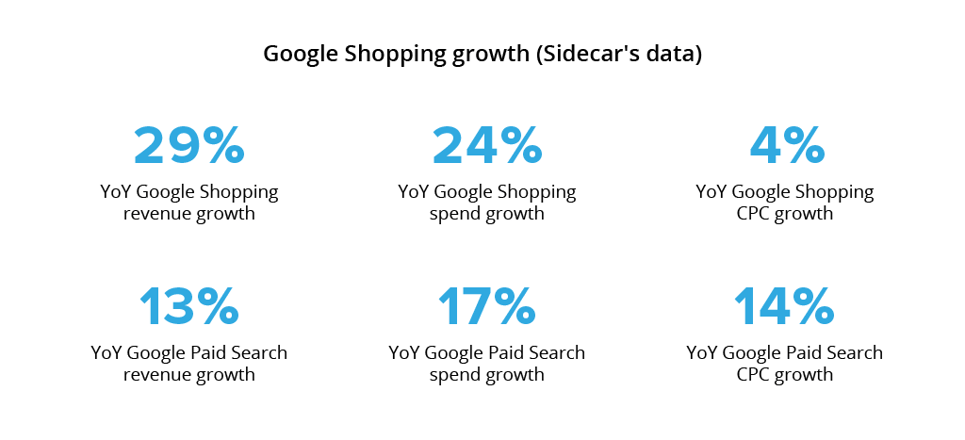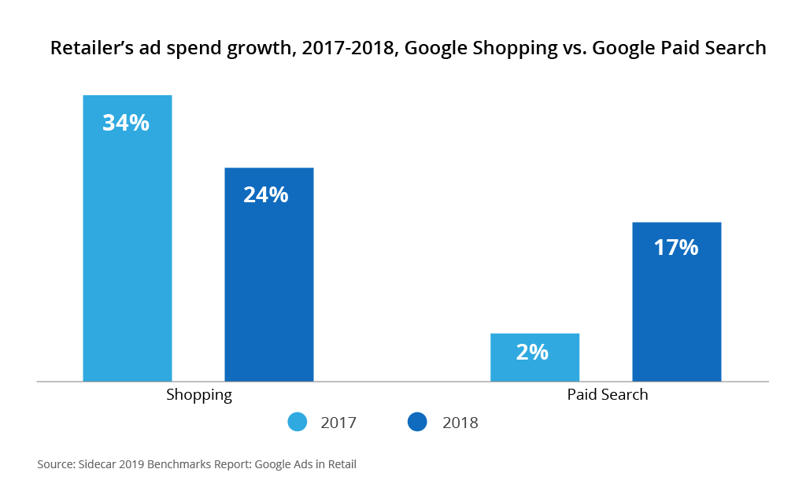 Google Shopping vs. Google Merchant Center & Google Ads
To use Google Shopping, retailers need to use two platforms:
Google Ads: where retailers run their Shopping campaigns and can optimize based on the ad performance. It enables them to control budgets, bids and settings such as location or ad schedule.
Google Merchant Center: where retailers keep the "product feed" with attributes of the products for sale, e.g. EAN, price, color and GTIN. It serves as a home base for products & product information.
To open your Google Merchant Center, go to www.google.com/merchants. Then follow their setup steps, including basic business information, terms & conditions review and website verification.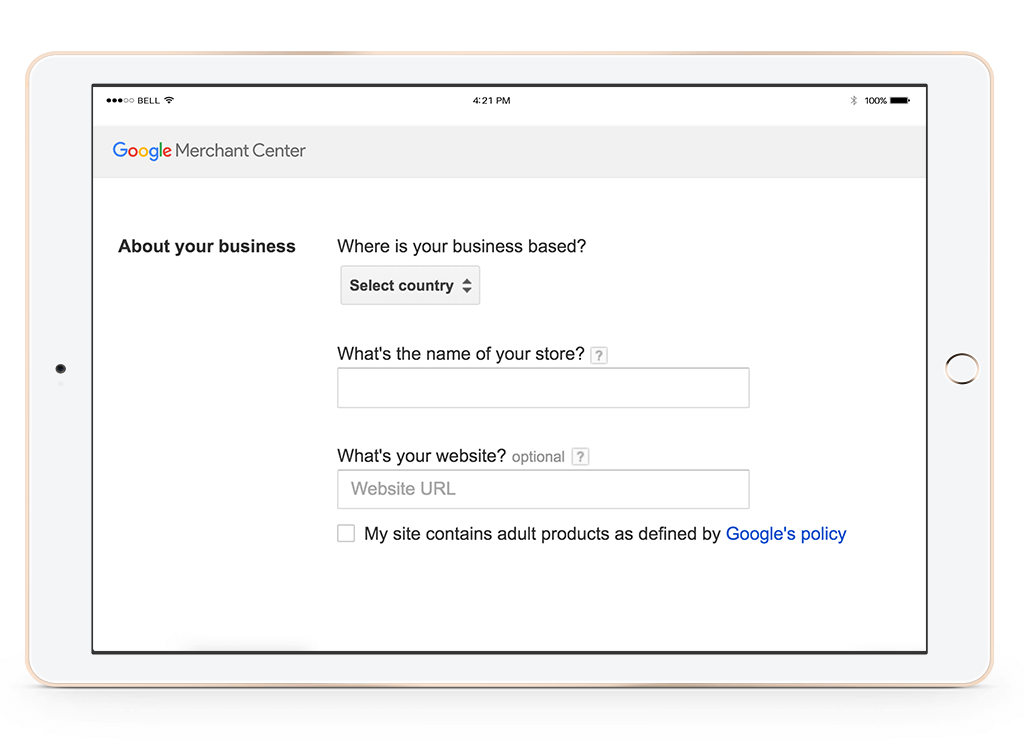 In your Google Merchant Center account you provide information related to your product types that Google needs in order to display your ads. You need to create a Shopping feed that contains the products supplied by your store.
A product data feed is a list of all the products you sell. This list should be in a special format required by Google. It's more like a spreadsheet with plenty of attributes and basic information that describe your products, e.g. color, brand, product identifiers, price or availability.
To set up your product feed, you can do it manually with Excel or use apps, extensions or plugins to automatically link product feeds. If you use a well-known ecommerce CMS platform, such as Shopify, BigCommerce or Magento, you will normally get a built-in Google Shopping data feed based on how you upload the products onto your site. You won't need to create an external feed.
To present your products to buyers, you'll have to link your Merchant Center and Google Ads accounts. You can do this through your Merchant Center dashboard. To run Google Shopping ads, you must also set up your tax & shipping rules.
Google Merchant Center is how Google gets your product information and Google Ads is how consumers see your products.
Uploading your product data feed in Google Merchant Center
Ecommerce sellers create a product data feed to tell Google about their products. This data is crucial as it helps Google find and display products when buyers search for certain product attributes or terms.
You set up your product feed from your Google Merchant Center account. There's no need to write text ads like for search campaigns: Shopping ads are generated automatically using the data in your feed.
A list of some required product attributes that Google uses to create Google Shopping ads includes:
ID: product's unique identifier
Product's title/name: should match the product's landing page and include your main keyword or phrases, your product name, model numbers; it's good to add any specifics that buyers may search for, e.g. color, size or style
Product description: should be accurate and match the product landing page
Product category: chosen from Google's predefined categories
URL of the product's landing page: should start with http or https
URL of the product's main image: should start with http or https
Product's availability, e.g. in stock
Product's price
Google-defined product category for your product
Product's brand name.
It's important to have your product data feed defined and up-to-date. Accurate product availabilities, shipping prices and product prices (if dealing in international currencies) are critical.
If your data feed doesn't match your website, your Google feed might be rejected.
Creating a Google Shopping campaign
You can create a Google Shopping campaign through Google Merchant Center and Google Ads.
You need to choose a Merchant Center product feed and a sales country. You will name your campaign, select country and input your merchant number.
Targeting and scheduling your campaign dictates who will see your product ads and when. You should choose locations where you're located and/or can ship to.
Finally you'll have to think about how you want to organize your Ad Groups. Ad Groups determine the type of ads you'll run and how you'll organize bidding for those ads.
Companies with larger product data feeds sometimes split Ad Groups by brand, category, product prices (for example, "regular price" vs. "on sale") or promotional events (for example, "new product launch").
Google Shopping optimization
You must regularly optimize your Shopping campaigns. Among other things Google Shopping success involves:
Feed optimization
Bidding strategy & management: adjustments by audience, time, device
Negative keywords
Monitoring & optimizing campaigns.
When creating your first Google Shopping campaign, start with well-structured, segmented Ad Groups. This makes optimization easier to manage.
Alternatively, consider hiring a marketing agency or using experts offering optimization services. This will help you save the time and hassle needed for optimizing your campaigns.
Optimizing your product imagery
Google Shopping is a highly visual experience. Product photos are a very important part of product listings and can be the decisive factor when it comes to which product listing buyers click and buy.
Google Shopping pulls the featured images from the respective retail sites and uses uploaded product feeds to index search results. Thus, you must optimize product imagery and listings on your own website before marketing them on Google Shopping.
Your images should be of a very high quality, especially that Google does frequent quality checks and can suspend Google Shopping accounts.
Follow Google's image guidelines from the beginning:
Use a solid white background and clear, even lighting.
Show the product clearly (close-ups and rear views can be used as additional images, but not as the main one).
Show the product at the correct scale (it should take up between 75% and 90% of the full image), it shouldn't be too big or too small.
Avoid image tweaks, such as pixelation, fading out or fringing.
Avoid blur, noise, excessive .jpeg additions.
You can show apparel products on-body, use shadows to add depth, provide multiple angles of the product or feature real people using it.
Avoid inserting text in the images.
These practices are also good for selling your products on other marketplaces such as Amazon or eBay.
Use Google's Ad Preview & Diagnostics Tool to check how your product photos compare to your competitors'. Consider A/B testing a couple of images to determine which one brings the optimal results.
Organizing your Product Groups
If you have a large data feed, managing bids at a product level is unrealistic. What helps is segmentation by similar products where the profit margins are similar. When organizing your Product Groups, always have your ROI in mind: what you can afford to spend on ads for specific products.
You can divide your products into groups based on:
Category.
Brand.
Product type.
Custom labels.
Potential issues with the category & brand segmentation:
Category: within one category you can have a wide range of different products so it may not always provide a segmented structure for better optimization.
Brand: if you're selling all unique products by your own brand, this wouldn't be an effective way to assess metrics per brand.
Segmentation by product type is probably the optimal way to group your products as it's based on your site's taxonomy and will be much easier to optimize.
By creating custom labels, you can subdivide your products based on your own labels such as "Most Popular", "Summer Dresses", "Birthday Gifts", etc. It's a great way to group seasonal products so you can make quick bid adjustments to products that are seasonally popular. You get up to five different custom levels to choose from.
Organizing your Product Groups has no influence on whether Google considers your product relevant to a search query. Product Groups are used to set bids.
When your Shopping campaign matures, separating your "Best Sellers" into their own campaigns/Ad Groups can help you keep a closer eye on the products making you the most money.
Placing bids on your Shopping campaigns
Google decides when to show listings based on priority settings and your bid. You're required to select your bidding strategy and campaign budget.
Bidding is how you pay for buyers to see, click on and interact with your ads. Shopping campaign bidding works differently to search campaigns. There are no keywords in Shopping campaigns, but you can set the bid on the actual products that you sell, which gives you a lot of control.
You can either set the bid on individual products or Product Groups.
With a manual CPC (cost-per-click), you set your own maximum CPC for your ads. You can also set an automated bid strategy, which requires conversion tracking.
Your campaign budget is the amount of money you want to spend on average each day. Google manages your budget monthly.
Example
If you set your campaign budget to $100 for the month of September, Google sees that you're ok to spend $100 x 30 days = $3,000 in September. Placing bids on your ads, Google might spend over $100 in a day, but it won't spend more than $3,000 in the month.
Bid & ad optimization in Google Shopping
It's usually better to start bidding low and then bump up good performers. To keep your performing ads at their peak, go for weekly monitoring and tweak your actions.
If you find your impressions are low, your product feed information may not be clear or your bids may be too low.
First, go over your titles, categories or descriptions and then raise bids slightly. This way you can confirm that your bids, as opposed to your feeds, are the reason for your low impressions.
Start with small bid changes without increasing or decreasing your bids by more than 20%. Make small adjustments and remove unprofitable products from groups.
If you begin using Google Shopping campaigns, start with a small product data feed of your current best-sellers or a few products with the highest profit margins. This way you can get the hang of how they work and how to optimize before scaling up.
If you make significant bid changes to Product Groups with lots of products, you may unnecessarily pay for low-competition products that a product group may include. Thus, you may pay more without improving the results. Bid increases usually help ad performance in the group with high competition.
High impressions but a low CTR means that Google finds your products relevant, but the lack of clicks usually calls for optimization. Your images may not be good, titles not enticing enough or your product price is not appropriate.
If your ad isn't generating any clicks, consider raising the bid or giving it a new image. You can A/B test for maximum optimization.
Optimizing product descriptions
Optimizing product descriptions can improve your results. Your product name should accurately describe what you're offering and should include your most relevant keywords. You can also mention your promotions and deals, for example "Free Shipping".
Checking your competitors' product pages may provide you with inspiration for optimization, e.g. see what they offer that you don't (guarantees, discounts, free shipping or any other incentives).
Additionally, consider the exclusion of low performing keywords that don't lead to a lot of revenue. Certain keywords may generate a lot of clicks, but not bring a lot of sales.
For example, if you sell "waterproof outdoor jackets for the summer", but your product description just says "waterproof jackets", a lot of shoppers may click on the ad. However, those looking for waterproof jackets for the winter will probably bounce back.
You can also eliminate irrelevant keywords. For instance, if you sell only silver earrings, by adding "gold earrings' as a negative keyword, you can avoid uninterested shoppers coming across your product listings and affecting your ad stats.
Retargeting
Consider retargeting: trigger a tracking pixel when someone visits your site. You can then show those visitors ads via other Google Ad products, e.g. YouTube Ads and Google Display Ads.
For example, an individual who looked at a particular pair of boots now sees Display Ads for the boots on Google Partner sites and also on YouTube.
According to research, 70% of those retargeted have been shown to convert.
Product listings quality score
The quality of your product listings for Google Shopping campaigns is determined by factors such as:
Your expected or current CTR
Relevance of your ad & your URL
Product landing page experience.
It's important to ensure that your:
Product feed information is correct
Product page URLs are live and without 404 errors
Product descriptions and titles match product pages' content.
As your ad history associated with your Product IDs is important for Google, it's better to keep product IDs of high-performing ads. To "erase" the performance of low-performing products, changing Product IDs will reset your product scores.
Google Shopping & reporting
To ensure you have access to the relevant data, link Google Analytics to Google Ads, set up conversion tracking and access the right reports.
After linking all your accounts and starting the first campaigns, check out the data for optimization.
The two main reports to monitor are Google Ads > Shopping campaigns and Product Performance Report. You can set them up directly in your analytics account via dashboard.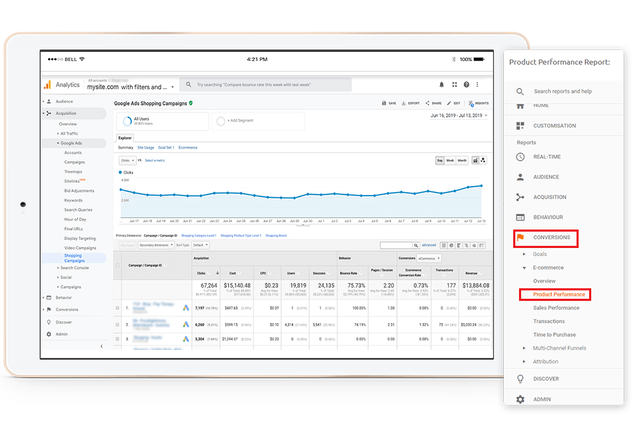 Google Shopping & international ecommerce sales
Google Shopping offers sales opportunities on your domestic market. However, your actual sales potential may go far beyond your local market, especially if the level of competition is high like in the USA or the UK.
Google Shopping allows retailers to get ahead of their competitors. For example, they have a chance of being the first to sell their products in different countries. These may be emerging online markets where there's a big demand for specific products but the local ecommerce sellers are unable to meet that demand.
Further, you may have reached a plateau in your current market. If this is the case, you can increase your market size and have lower acquisition costs, e.g. cost-per-click, by targeting new markets.
You also have more trading hours and a possibility to reach a wider audience. For example, when your American customers are sleeping, Europeans can be busy browsing for your product.
Selling internationally with Google Shopping
Shopping Campaigns in Google Ads are country-specific. To sell and advertise in multiple countries, you'll need a product data feed and a new campaign set up per sales country. In other words, you'll have to set up campaigns per product for each location you're selling in.
When you submit your product data to Google Merchant Center, you'll need to use a language and currency that's supported for your country of sale. Your product landing pages must also be in the same language as your product data. For example, if you list your product data in German, you must link to landing pages in German.
To advertise in Shopping ads, there are language and currency requirements for your product data and landing pages for both your home country and foreign countries.
If you advertise products in your home country, follow the requirements for that country. If you advertise products internationally, there are three possible scenarios for language and currency.
Country of sale currency, local language
Your ads will show in the language and currency of your country of sale. Fully localizing language, price, tax & currency helps to provide a frictionless international shopping experience.
To translate & localize:
Translate landing pages and checkout flow.
Upload translated product data as a new feed in a local language and with prices in the local currency.
Consider taxes in different countries.
Submit shipping information for the foreign country in the same currency you use for your product prices.
Present all cost information in the country of sale currency on your landing pages and website.
Set up a Shopping campaign for the country of sale.
Country of sale currency, supported language
Your ads will show in a language of your choice and in the currency of your country of sale. On top of the primary languages of a country, many users may speak multiple languages or prefer different languages. Thus, you can submit products and run campaigns in multiple languages in some countries.
Check which countries allow advertising in the languages your product data and website already support.
Then upload your product data as a new feed in a supported language with prices in the currency of the country of sale. Google will target people who use your chosen language.
Click here to see all supported markets
Currency not native to the country of sale, currency, local or supported language
Your ads will show in a language of your choice and both a currency of your choice and the currency of your country of sale. Currency will be automatically converted by Google: if you don't want to convert your prices, you can use the currency conversion feature. Google will target people who use your chosen language.
Why choose a local language & currency
On top of targeting a given country's native languages, Google often allows you to target other languages (often the language that people use on google.com). Thus, in most countries you can target English speaking users.
English is the world's most spoken language and may seem like a universal choice when it comes to advertising products internationally. However, English is often not the language of preference when it is not the shopper's native language.
According to research carried out by Eurobarometer on 13,700 users across 27 EU member states, 42% of the respondents have never bought online in a foreign language. 56.2% of consumers say that obtaining information in their own language is more important than the price.
This means that:
International buyers feel more confident when they can purchase online in their native language.
This is especially important when your customers are about to finalize their payment and enter payment card details.
Moreover, buyers want to see prices in their currency, without having to use a currency converter. According to Penton Research, 33% are likely to abandon a purchase if pricing is listed in USD only and 92.2% prefer to shop and purchase in their local currency.
The bottom line:
In most markets you will have to create a localized Google Shopping product feed with full translation of all your product catalogs and accurate currency conversion of your product prices.
Growing your international sales via Google Shopping with Glopal
Glopal can help you increase your global traffic with Google Shopping. We expand your Google Shopping campaigns worldwide and ensure your store qualifies for Google's requirements.
Our innovative solution automatically downloads your domestic feed and localizes it to target new markets. Localized products are available in your Merchant Center.
The localized Shopping Ads targeting new markets are launched from your Google ad account, providing you instantly increased sales.
Your Google Shopping ads can have up to 130% higher conversion rates, compared to normal Shopping ads.
Further, many of your top-performing keywords have a higher volume of searches but a lower CPC (Cost Per Click) internationally than in your domestic market.
By identifying these keywords within your international markets, we lower your average CPC, widen your global reach and drive more traffic to your online stores.
Glopal solution enables you to launch campaigns in new markets. By expanding to multiple countries you can lower your CPCs and maintain your ROAS (Return On Advertising Spend). We provide you with a more efficient digital campaign compared to domestic selling.
With our fully managed cross border trade solution:
We localize your Google feeds in multiple markets.
We maintain your desired ROAS.
We only increase investment in countries that work.
We typically launch global Google Shopping campaigns in less than a week. Find out more and contact us to get started.
In a nutshell
To be successful with Google Shopping, take an SEO optimization type approach. Keep your feed well-maintained and optimize your campaigns regularly so you show up in the right searches and improve your conversion rates.
Further, sales opportunities are much bigger if you offer products in multiple countries.
Optimized and localized product listings for international customers are likely to bring you much higher conversion rates.
To list products in multiple countries, translate and localize your product feed. This way you'll provide a frictionless international shopping experience and will see much higher conversions.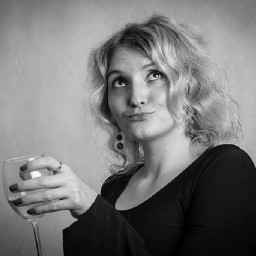 Karolina Kulach
Karolina Kulach is a content marketer and non-fiction writer, specialising in global ecommerce and online sales trends. Educated in Linguistics (MA) and Business Studies (BA Hons). A well-travelled individual with international education & work experience gained in London, Scotland, Poland and Germany. In her spare time buzzing with creative content ideas, including funky rhyming poems.