Glopal has recently introduced a brand new extension for all sellers using the Magento platform to offer the best in class global ecommerce and cross-border solution. The solution not only allows Magento retailers to provide their international customers with a seamless and localized shopping experience but also enables brands to easily and instantaneously deliver their international strategy and empowers them globally too.
International strategy and growth is an increasingly important objective for Magento online retailers. 'Often when we speak with online brands about their international strategy they say 'Yes, International growth is strategically really important for our business, it's on our roadmap and we hope to start deploying our global strategy in 18 months to 2 years,' says Herbert Knibiehly, CPO at Glopal. 'It is because traditionally online retailers required huge resources and manpower to localize their product catalogs and website, provide localized payment and affordable international shipping. Our customizable solution removes the hassle of international selling, it delivers an end to end global experience in just a few weeks.' he adds.
Glopal's tailored one-stop solution removes all those big ecommerce barriers, increasing online international traffic and sales. It covers everything from driving multi-channel acquisition through international SEO to localization and translation, tax and duties calculation, shipping solution and global returns.
Growing international traffic and sales
Retailers and brands convert overseas window shoppers into buyers more easily, thanks to a set of features specifically designed for global trade:
International SEO:

Reaching the audience worldwide organically is an important driver for successful ecommerce. By translating and localizing retailer's store content Glopal enables international search engines to index seller's content locally to their global buyers, maximizing their visibility and improving their organic international traffic.
Localized store:

Glopal fully replicates seller's store design on their own domain name in their desired local languages and currencies. Glopal's real-time proxy technology is fully compatible with SEO indexing.
High-quality human translation:

Glopal opens the door to new international opportunities with their ecommerce translation capabilities. The company's team of translators can create high-quality content and review newly added product descriptions as part of our on-going process. It also provides an AI-based translation engine, that quickly creates human-like translation at a low cost using natural language processing.
Localized checkout:

Glopal's localized checkout is a key step in improving international buyer conversion. The checkout proxy technology seamlessly integrates with the retailer's site, allowing customers to benefit from an experience in their language and currency. Seller's existing international shipping options, payment processing mechanisms or discount management components are natively integrated.
Guaranteed total landed cost:

The solution offers price transparency. It also provides international customers with their guaranteed total landed cost by calculating customs duty and tax at checkout, preventing goods being delayed at customs. Glopal adds in all international costs, including real-time tax and duties and guarantees one final price for the seller and their customers.
'The Glopal's Magento extension delivers a truly wholesome international ecommerce solution, from full online store localization unleashing international marketing to multi-carrier international shipping providing best in class buyer experience,' adds Herbert Knibiehly.
Reporting and analytics
Glopal lets sellers and brands get a deeper understanding of the growth driven by our solutions thanks to dashboards and sales reports.
It tags their international stores so they can be tracked using your existing Google Analytics account. If they have other reporting needs, a common conversion tracking such as Facebook pixels or affiliation tracking tags can be integrated as well creating a complete picture of your international marketing investments. Through Glopal's control panel, retailers have full control over their international stores.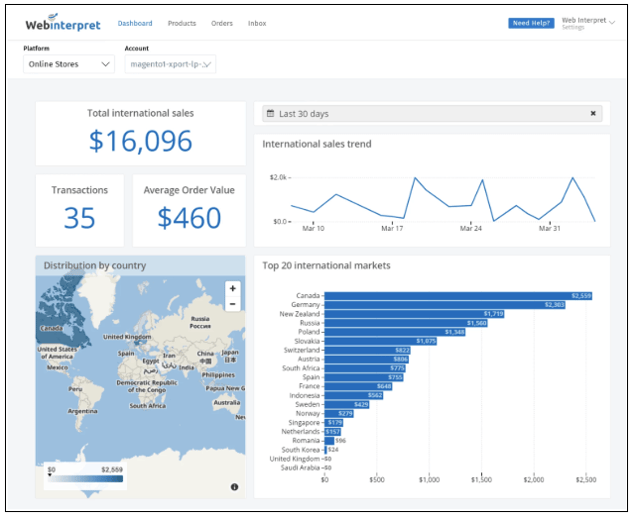 Glopal's control panel gives retailers full control over their international stores.
Robert Krol
Robert Krol is a Marketing and PR expert, and the Marketing Communications Manager. Specialising in content and digital marketing he studied at the University of Vienna, London School of Marketing and completed the Google Squared Online training.