Introducing Glopal's International Payment's Solution
As the global market continues to grow and more international markets become accessible, it is important to innovate to be able to provide shoppers with the best local buyer experience possible to drive checkout conversion.
One of the biggest influences on checkout conversion is being able to offer local payment methods as well as the prices being displayed in the buyers currency. This requires merchants to partner with a payments processor to not only be able to facilitate payments in each international market, but also handle the various currencies in great volume to support international sales growth.
However, with the processing fees of payment solutions like Paypal growing each year, merchants are increasingly having to search for more cost effective alternatives, whilst still being able to provide the buyer experience necessary to sell through international markets.
Glopal has been working hard to enhance our international checkout functionality to increase online conversion and reduce the cost of business for merchants.
To further improve the experiences of the buyer, profitability for merchants and streamline the process to support international sales growth, Glopal has launched our very own international payment solution.
What is Glopal's International Payment Solution?
Our comprehensive payment processing solution is designed to better serve the needs of your business and your customers. It's a safer, simple to use solution that allows for a rapid method of payment when buyers are shopping online, as well as enabling merchants international growth across a wide selection of global markets.
What does it mean for your business? It means higher checkout conversion, lower cost of business and ultimately more international sales!
The key to converting internationally is offering the buyer a local experience. Glopal's International Payment Solution provides buyers with the ultimate localized experience - they can buy products in their own currencies, with payment methods they prefer, without any worries or concerns.
Why choose Glopal's International payments solution?
Gloplal's International Payment solution was created to enable and drive international sales growth for merchants. By opening the checkout to allow more currencies and more payment methods, merchants can start seeing a significant increase to their checkout conversion rates.
The solution offers the following benefits:
Lower processing fees
More payment methods
Fraud & currency protection
Simplified refund process

1. Lower processing fees.
Reduce your cost to business with lower processing fees.
We understand driving profitability and lowering costs for merchants is important, especially in today's market. Currently, payment solution providers such as PayPal have high processing fees, which for certain products across a range of international markets can become a huge cost.
With Glopal's new international payment solution, merchants are now subjected to lower processing fees to enable merchants to reduce their overall cost of business. These international processing fees can also be selected to be paid by the buyer.
With more competitive rates, and more international currencies available, merchants can maintain profitability, whilst having flexibility.
2. More payment methods.
Convert more buyers by offering them more choices to pay.
With more consumers purchasing online now than ever and more international markets being accessible, not having the right payment methods (such as not offering localized payment methods for that particular market) can negatively impact conversion rates.
Glopal payments enables merchants to launch more payment methods than ever before in more international markets, allowing customers to pay in their preferred payment, and drive greater checkout conversion.
Supported payment methods:

Visa
MasterCard
American Express
Discover, Diners club, JCB, and more

Coming soon

European direct payments : Giro, Ideal, Sofort, etc.
Digital wallets : Alipay, Paypal, etc.
With even more payment methods continually being added in the coming months, we're working to ensure you can provide the best checkout experience for your buyers in any market around the world.

3. Fraud and currency protection.


Glopal takes on the risk to protect merchants.

Glopal payments ensure better fraud prevention by setting up different security rules per country, enabling risk to be managed across all international markets.

Glopal also protects you from international exchange rate currency fluctuations. By providing fixed currency costs, you can ensure that what your buyer pays, you receive. This also includes customer refunds - if a customer refund is requested after a period of time, we will use the same exchange rate as was used when the order was placed.

4. Simplified refund process.


It is now much easier to manage refunds and chargebacks.

International refunds are important and they happen. With the new international payment solution handling international refunds is now much more easy.

Today, for many merchants refunds are a manual and time consuming process, requiring back and forth between the merchant and PayPal, as well as grueling order ID matching. Glopal's solution automates this interaction, saving you time and peace of mind.

Simply when your buyer requests a refund, trigger this by clicking a refund request button in your store back end and Glopal will refund the money back to the customer on your behalf, within 2 days.

It's that easy, we deal with everything for you.
How does it work?
Glopal payments is a simple and efficient payments solution that integrates into your checkouts.
It works by facilitating online payments for your customers by handling the entire payments processing, rather than relying only on 3rd parties such as Paypal, to reduce your costs and drive greater international checkout conversions.
The process is as follows:
1. Your buyer finishes browsing and moves onward to the checkout to complete their purchases. The buyer is shown currencies local to them, as well as any tax & duties displayed from Glopal's international Duties & Taxes solution. They proceed to click checkout.
2. The buyer is then offered the payment methods they prefer in our localized checkout. Once they have filled in their details and click the buy button, it begins the payment processing from Glopal.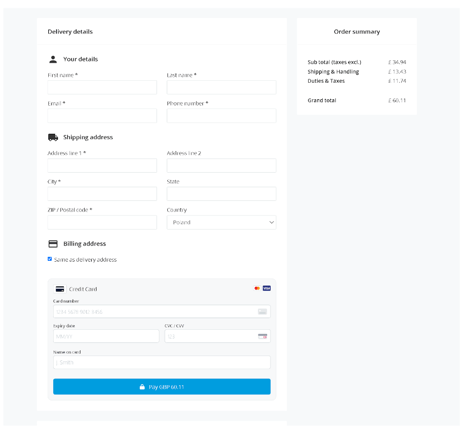 3. Once the payment is successfully processed by Glopal, the buyer gets a payment confirmation email saying that Glopal is processing the order.

How to get started
As a Glopal customer
Integrating Glopal's International Payments is a quick and easy set up. Simply get in touch with your account manager and we will integrate the solution into your international checkouts instantly.
Not a Glopal customer?
To take advantage of Glopal's International Payments Solution and start seeing global sales growth at a reduced cost to business, sign up for free today.
To understand how you can take full advantage of the new international payments solution and start driving international sales growth for your store, get in touch with one of our ecommerce experts today.
*This is done in a partnership with payment providers