Glopal is proud to be recognized as one of the most innovative e-commerce companies in France at the Républik Retail-hosted annual Connected Commerce awards event on Monday November 21. The event which is attended by the movers and shakers of French commerce serves to celebrate the innovation and achievements of retailers and suppliers across the country.
Glopal has been awarded the bronze trophy in the Innovative Suppliers category. The event was hosted at the Mogador theater in Paris, where 30 awards were presented to leading French commerce brands , across the span of 2 hours to the witness of over 1000 attendees from the retail and ecommerce space.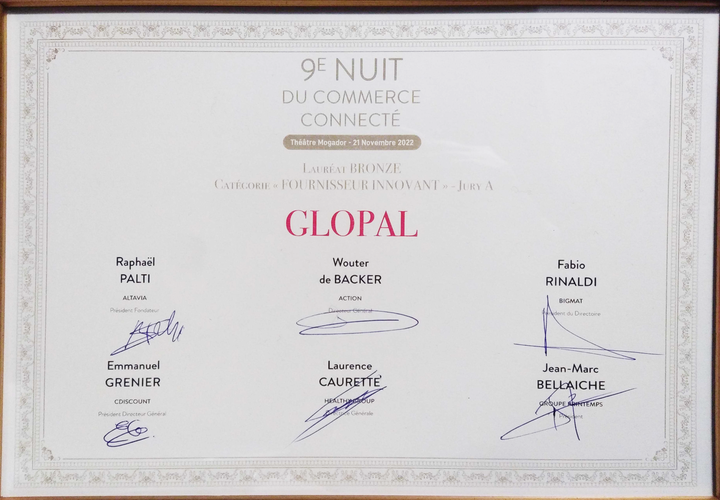 Glopal were amongst 120 leading ecommerce suppliers selected to participate in the Innovative Suppliers category. To be eligible for the selection, each company had to present a 3 minute pitch in front of a jury of 25 top CEOs from various retail leaders. Johann Antoine, Sr. Director Enterprise Sales led Glopal's pitch, highlighting the company's innovative international ecommerce solution and its growing industry adoption across the globe.
"I want to thank the Judges for recognizing Glopal as an industry leader in the e-commerce space. The award is a major success for Glopal, which speaks highly of the hard work and commitment of our entire global team.", said Johann Antoine, Sr. Director Enterprise Sales, Glopal. He added, "Printemps CEO personally handing the award and praising Glopal means a lot. It's testament to the value and impact we are providing to not only Printemps and retailers in France, but world-leading brands across the globe."
This award highlights Glopal's commitment to innovation within the ecommerce space and pushing cross-border boundaries.
Category Jury: Fabio RINALDI, Chairman of the Management Board - BIGMAT; Laurence CAURETTE, Managing Director - HEALTHY GROUP; Jean-Marc BELLAICHE, Chairman - PRINTEMPS Group; Raphaël PALTI, Founding President - ALTAVIA; CDISCOUNT - Emmanuel GRENIER, Chairman and Chief Executive Officer; Wouter DE BACKER, Managing Director - ACTION; Philippe THIRACHE, Managing Director - GEMO.
About Glopal
Glopal simplifies international growth for e-commerce merchants, opening them to a world of customers. We enable businesses to expand quickly and seamlessly into new markets. Through our cross-border platform, we help global brands scale international sales while providing best-in-class buyer experiences. Glopal powers the international operations of some of the largest retail names in the world.