With an estimated industry revenue to hit $492 billion by 2025, Social Media is quickly becoming the hottest eCommerce channel and a really effective sales tool for merchants.
Social eCommerce is the convergence of eCommerce and social media. Brands that engage in social commerce utilize social media platforms as vehicles to sell products and services. If your business relies on eCommerce sales and marketing channels to find buyers, you're probably already involved.
Unlike social media marketing, social eCommerce gives customers the option to checkout directly from social platforms or drive buyers to visit webstores. More than half of the world's population uses social media, so the likelihood of finding a critical mass of buyers is almost guaranteed.
Social media provides a platform for businesses to build trust with their customers by driving conversations, driving positive brand awareness through engaging and inspiring content, and creating a sense of community. In addition, merchants can tap into deep insights and analytics to understand their target audience better and develop meaningful relationships with them.
While similar, the key difference between social eCommerce and traditional eCommerce is that customer interactions and purchases take place on social networks instead of in merchants' stores. Therefore, social commerce provides a much more frictionless experience for consumers on social media consumers by reducing the steps taken to make a purchase.
Why is it important?
With billions of people actively using social media, it's fast becoming one of the most lucrative marketplaces for businesses. Merchants that want to remain competitive in an increasingly digital era must incorporate social commerce into their business strategy. Social commerce can heighten brand awareness, increase customer satisfaction, and drive sales when used properly.
1. Access to more buyers across the world
More than half of the world's population is on social media, and there are now over three billion people using the more popular social media platforms such as Facebook. This opens merchants up to a massive market with untapped potential to reach buyers all across the globe for many businesses.
In addition to providing access to more buyers, it also enables merchants to offer a better buyer experience, which is just as important as the product itself. Social media offers a more natural buying experience in a familiar setting. The result is more repeat business and happier customers.
2. Hyper-target your core audience
Eommerce offers the chance to use targeting to get their products in front of specific audiences who are much more likely to buy, in a way that physical shopping generally cannot.
Social media platforms take this one step further by focusing on collecting deeper data on visitors, such as interests, spending habits, how they react to advertisements etc to give highly valuable insights to merchants and enable them to hyper target buyers and tailor even more specific messaging to drive conversions.
3. Social media creates a more robust brand and buyer experience
Buyer experience is everything when it comes to online shopping. Social media platforms make shopping a more engaging experience in comparison to a traditional eCommerce spree.
The right social commerce experience can make customers feel more connected to your brand; drive more sales through recommendations and positive reviews by friends, and user-generated multimedia content featuring your products.
consumers can be made to feel more connected with your brand; they can use the platforms to consult with their friends on purchases, show off their new apparel, review what other people have said or just generally interact with brands they love.
This experience creates brand loyalty and engagement, which drives higher sales conversion at checkouts.
How to drive international sales through social ecommerce
Social ecommerce can be an invaluable sales tool for merchants. We'll be hosting a webinar this month to discuss what steps you can take to drive international sales through social ecommerce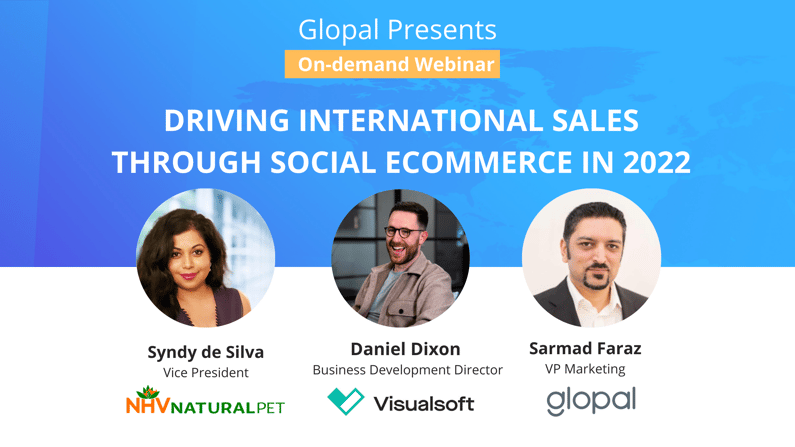 JWatch our on-demand webinar as we host a panel of industry experts as they discuss their views and experiences on how social selling is becoming a primary driver for many ecommerce merchants in 2022, and what the role of localization plays in strategies to sell to buyers all over the world across social media.
You'll learn:
The opportunity social ecommerce presents in today's global markets
How social channels like Facebook and Instagram and other tools in Metas ecosystem are facilitating global sales growth for merchants
Practical tips and tricks for utilizing localization to drive higher social ecommerce growth across global markets