International ecommerce is a multi-trillion dollar opportunity for online retailers. After overcoming the initial entry barriers to foreign markets, retailers can often find higher value customers at a lower cost to their business.
However, as going global adds complexities in technology and operations, the way you handle your global growth strategy should not be hit-and-miss. Instead it's important to have a plan in place.
This article will highlight the crucial points to consider:
the type of approach you should take for your global growth strategy
foreign online markets to select
international barriers you may face
the optimal way of getting maximum results with minimum efforts.
The stages of growing your ecommerce business on international markets
To expand globally, you often start by selecting and prioritizing your (key) markets. Then you choose the optimal approach (active/passive; soft/hard) and decide on the level of buying experience you want to offer.
According to Benjamin Cohen, Co-Founder at Glopal, it's often optimal to start simple. For example, you can offer international shipping on the existing website or sell on marketplaces like eBay or Amazon.
It's worth testing a few new countries and their actual sales potential. However, pushing into too many new markets all at once is not always recommended. In other words, it's the 'walk-before-you-run' approach.
To speed up, you can optimize your existing website to be able to accept international orders. You can even build localized websites for certain markets, e.g. with local domain names, checkout options, payment and messaging.
The most proactive option is fully localizing the site. This involves setting up a high-level marketing plan, sorting out international delivery, easy returns and customs compliance. It also means providing improved customer experience.
According to Beck's methodology, there are three stages of growing your business abroad: crawl, walk and run.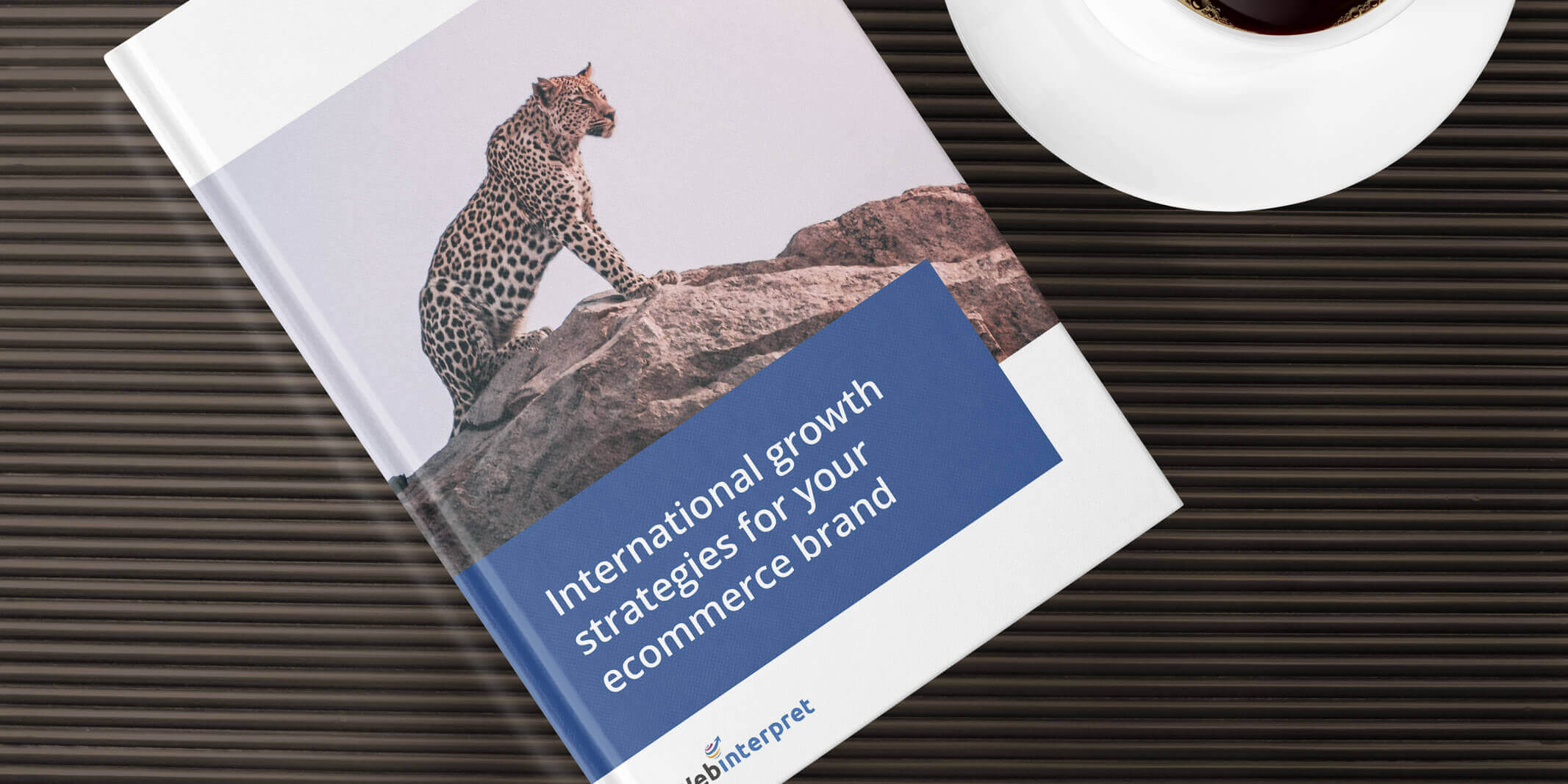 Download our FREE ecommerce guidebook 'International growth strategies for your ecommerce brand'.
The crawl / walk / run stages of expanding your business abroad
The crawl stage is a passive approach. You expect foreign buyers to find you. You don't have any active approach or strategy but you're able to ship your goods to a foreign market.
At the crawl stage you:
can slowly enable international shipping
can start with one or two markets that are more open to cross-border commerce
focus on simple solutions, simple tests and minimal risk.
The walk phase is a more active, customer-oriented approach that accounts for country-specific expectations.
At the walk phase you:
localize the basics (e.g. language, currency, checkout)
adjust your shipping rates
sort out taxes and duties calculators (to avoid delivery issues)
can consider local returns or an easy global returns solution
start to put direct investments in local marketing
ensure optimal buyer experience
increase sales & market share by acting global & thinking local.
The run stage is the most proactive one. It's about localizing buying experience fully and optimizing operations and marketing when a market is maturing.
At the run stage you:
focus on repeat buying
should minimize delivery times and the costs of logistics
should automate your workflows and ensure great customer experience if you're a big retailer.
You can improve your customer experience, for example by guaranteeing the total landed cost.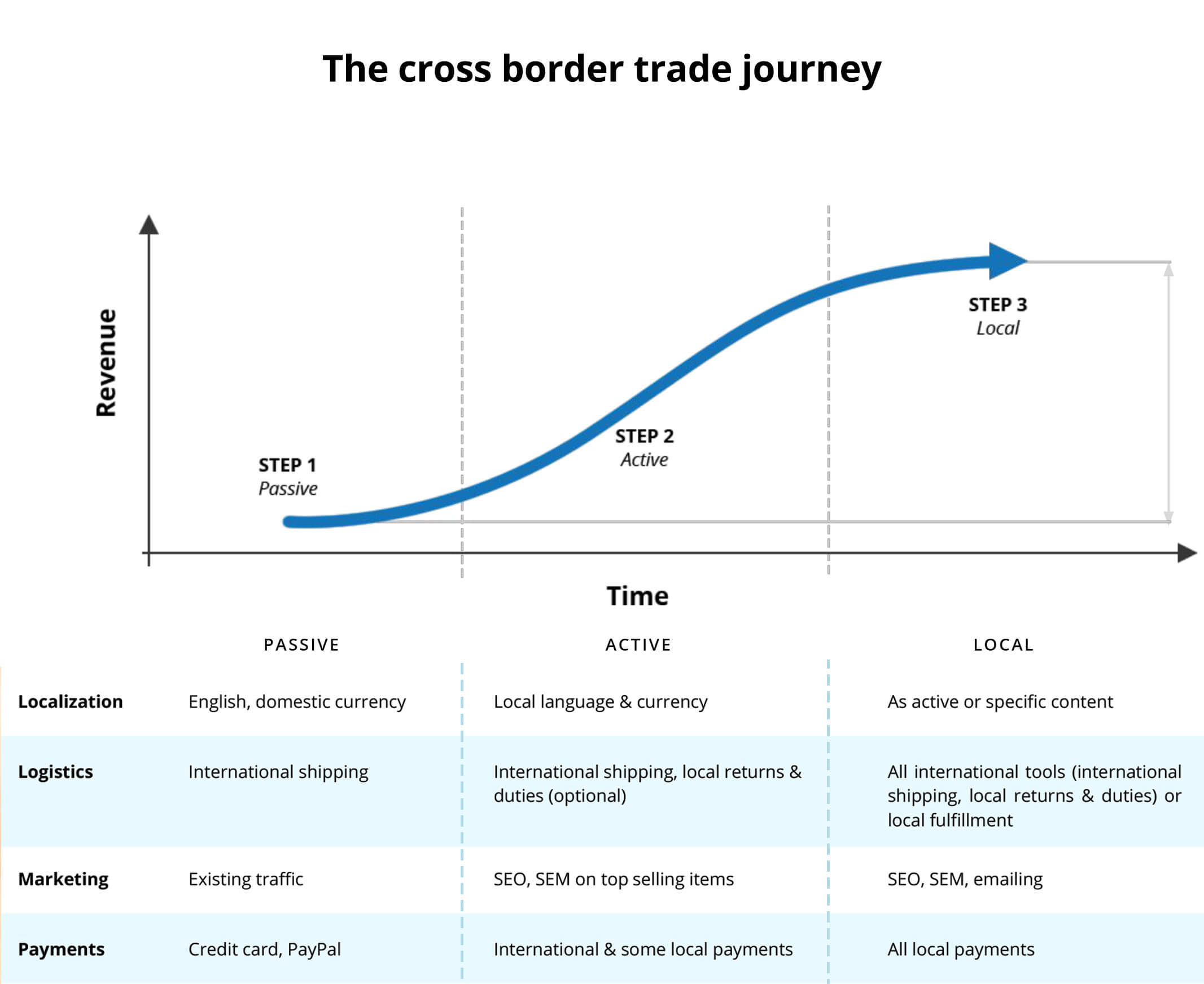 Approaches to launching your brand in a new country
As far as the approaches to going global go, retailers range from passive/reactive to proactive. Sellers can choose to:
avoid international orders (passive)
be able to accept international orders (passive/reactive)
localize the basics, e.g. checkout (reactive)
translate & localize the site and customize for high-opportunity countries (semi-reactive)
market the store/product to grow their international customers database (proactive)
fully localize & go multi-channel (online & offline presence) (proactive).
Moreover, retailers' approaches to launching their brands in a new country may be soft or hard.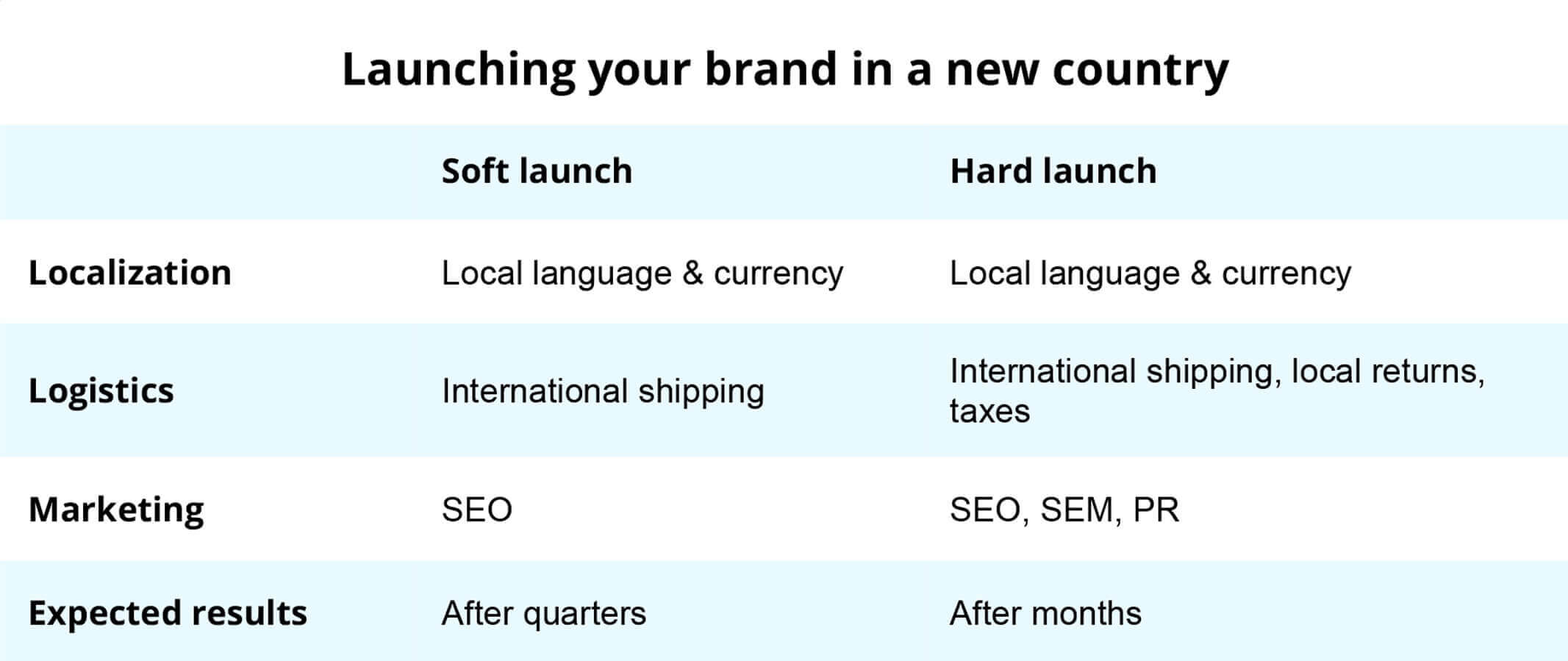 The soft approach: an active, but still more of a "let's-wait-and-see" approach. You offer foreign buyers a mostly localized buying experience with SEO in place. You just let your sales grow and it usually takes a few quarters before you see any tangible results (for instance SEO takes time).
The hard approach: an active approach that allows you to kick-start your sales. You actively co-ordinate and implement many more activities, e.g. search engine marketing or finding influencers. As a result, by creating enough assets, you see results almost immediately.
Choosing foreign online markets
A good way to start is to research the top countries with gaps in the market and/or strong demand for your products.
Creating a checklist will help you assess a given market's sales potential. It's worth checking out ecommerce-related data:
popular product categories
market size for your category
potential entry barriers
shipping costs
local buying trends, spending patterns, return rates
the lifetime value of the average customer
marketing opportunities, acquisition costs of the average customer
local customs, trends, taboos and local holidays
local competitors (domestic and international).
This type of information is important as it allows you to pre-assess your profitability in a given market. For example, Norwegian customers are usually more affluent than Greek ones so you can expect Norwegians to spend more in general.
Further, in some countries it may be customary for local customers to return items purchased online. For example, return rates tend to be much higher in Germany compared to other EU countries.
If you're still looking to implement an easy & cost-effective international returns system, selling in countries with higher return rates may be too costly for your business.
Additionally, retailers must analyze competition. A market can be large, but also too competitive. For example, the US and the UK are among the biggest players in terms of retail sales according to Emarketer. However they also have a high level of competition.
To find out more about international ecommerce strategies, watch the expert interview with Benjamin Cohen.
Assessing the market
Tracking numbers is crucial to understand whether a given market serves you and is profitable. Hence, go through your analytics to see where your biggest numbers of international purchases come from.
Metrics that will measure your progress include:
sales numbers
repeat buyers
website traffic
reviews
social media following.
Your brand may be recognized in your home country, but to achieve the same result abroad, you may have to overinvest initially with no guaranteed ROI. There's always a risk. Things may simply not pan out or gain traction so you may have to look elsewhere.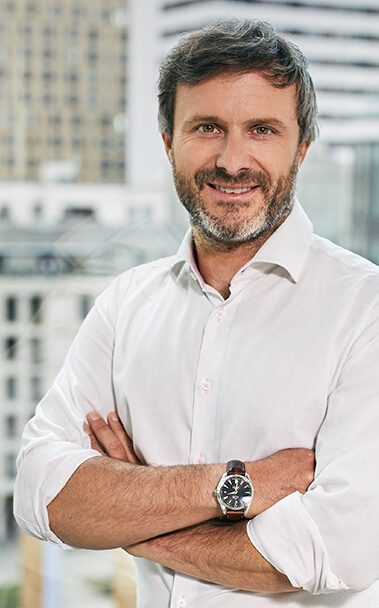 Understand your costs and return-on-investment. Remember that it can take time before you see any (impressive) results.
Benjamin Cohen, Co-Founder at Glopal
Shipping & logistics
Shortening international delivery times is important for large ecommerce brands. Orders may take as much as one month to be delivered abroad, especially when there are customs delays. This can frustrate your foreign customers and can earn you bad reviews.
Most logistics partners will be able to provide you with international shipping. However, there's more to be done, e.g. sorting out tax declarations & customs documentation. Further, logistics companies don't have the same level of operations across destinations.
To optimize your international shipping, it's crucial to consider:
the best courier for each destination
what to do when it comes to tax
the return requirements of target countries
the easiest & most cost-effective international returns strategy.
To address these questions, Glopal has found a few solutions.
For instance, we enable online retailers to ship their international orders directly from their fulfilment centers and we generate all the required customs documents and shipping labels on site. Further, we enable retailers to handle international returns hassle-free, minimizing their costs.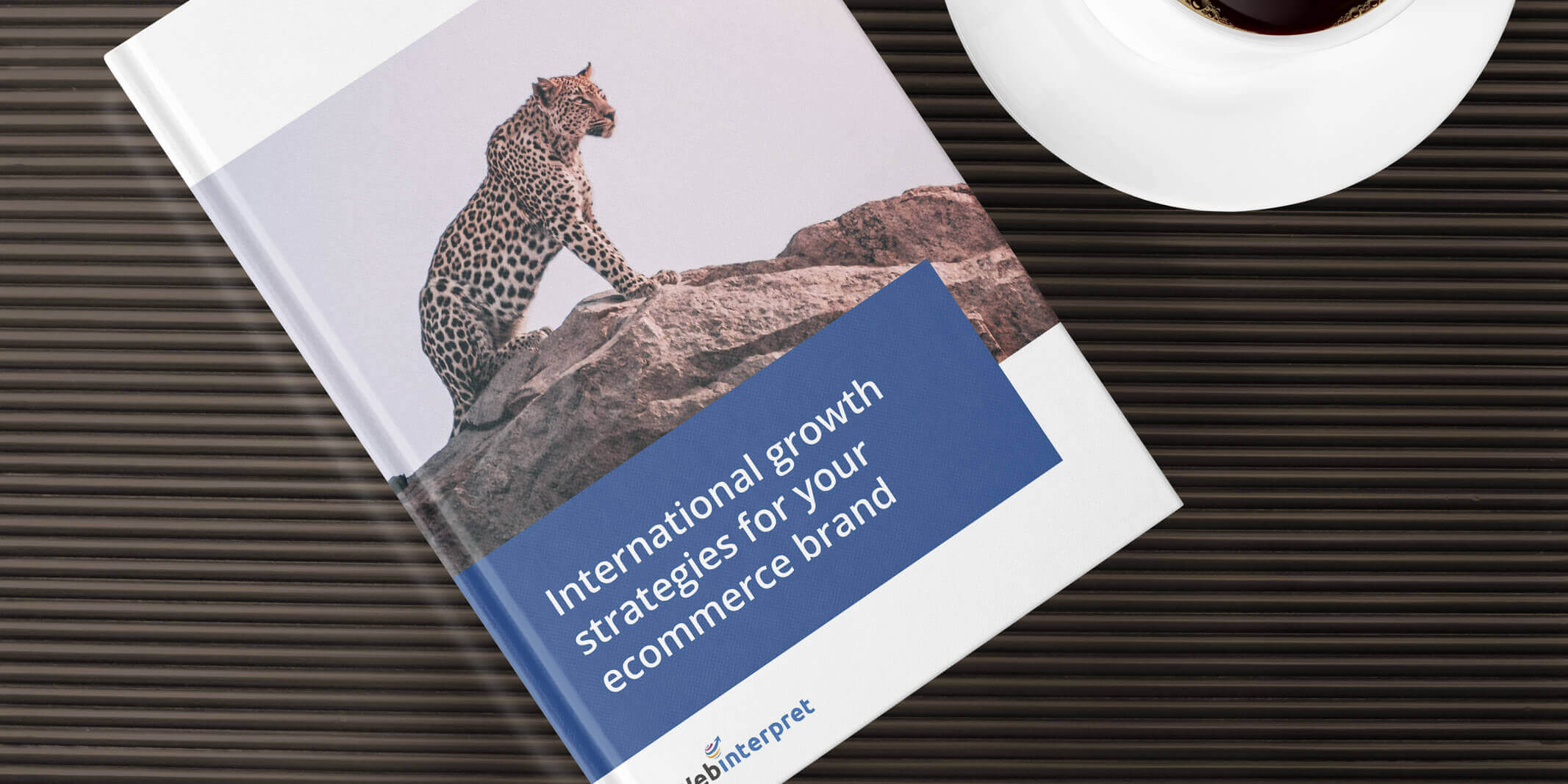 Download the global growth strategy guidebook to choose the optimal approach for your ecommerce brand.
Time for ecommerce brands to approach international ecommerce
According to Benjamin Cohen, when your local market is reaching a plateau, it's time to turn to cross-border commerce. Targeting new markets helps you to increase your market size and have cheaper acquisition costs.
However, acquiring new buyers at a controlled cost and creating a positive brand image is more difficult internationally than domestically. For this reason, international ecommerce becomes a question of efficiency & profitability.
There are a number of points to take into account:
Local distribution: to shorten delivery times and reduce the overall cost of logistics, e.g. by opening a local warehouse.
Shipping directly from your warehouse: to minimize the chances of any extra or unexpected delays by avoiding transitional addresses/hubs. It's a practical solution if you don't have local distribution centers.
Automating workflows: to minimize costs, maximize efficiency and improve your workflow.
Taking care of customs compliance upfront: to avoid customs delays and other unpleasant surprises at the point of delivery.
It's important to adapt your standards for international customers. Their expectations are often similar to those of your native ones.
Glopal's ecommerce localization
Glopal's ecommerce solution translates & localizes your online store for international markets. It improves your buyer acquisition & conversions and ensures you're compliant.
The Glopal ecommerce solution:
provides you with high quality translation & full localization of your ecommerce store
helps you drive & convert international buyers
offers a fully localized, secure and hosted international checkout process that enables you to accept payments in 25 currencies
reduces shipping friction & delays
helps you stay on top of customs compliance, tax & duty calculation and customs documentation
improves the efficiency of your workflow & your customers' experience.
In a nutshell
When expanding your ecommerce brand abroad, you can decide how far you want to go or how deep you want to dive. You can choose to stay passive or adopt a fully proactive approach to growing your business abroad.
The simplest & fastest way to grow your international sales is to offer an end-to-end fully localized shopping experience.
By giving international buyers an online shopping experience that is indistinguishable from their normal native experience, you can compete on a level playing field with local competitors
A cross-border trade partner can help you localize your store for foreign customers, thus helping you maximize your sales potential.
Prank sombody with the fake Windows 10 upgrade screen which never ends. Open the site in a web browser and go full screen with the F11 key.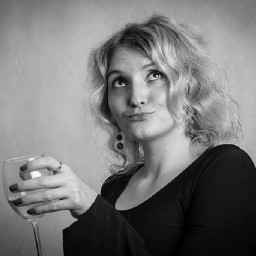 Karolina Kulach
Karolina Kulach is a content marketer and non-fiction writer, specialising in global ecommerce and online sales trends. Educated in Linguistics (MA) and Business Studies (BA Hons). A well-travelled individual with international education & work experience gained in London, Scotland, Poland and Germany. In her spare time buzzing with creative content ideas, including funky rhyming poems.